My first collection was made from recycled materials, which I collected from my friend's houses such as vinyl records, old movies strips and used old curtains. My friends always asked me around to their places before they decided to throw anything out as they knew I would like to potentially collect and recycle.
I was a big lover of the Spring Clearances at Buda. For me it was heaven when I found vintage dresses and fabrics. At that time I considered

TildArt

as being "Eco-Fashion" because I was just creating "fast" outfits for catwalk shows, for dancers and for photo shoots. At times I just used duck tape to stick together dress pieces. My style at the time was a collector and recycler of items that I could envision as fashion pieces with a little bit of work.

I had about 25 fashion events in Hungary, such us fashion shows, photo shoots, stylist jobs, etc. over a 4 year period. While living in Budapest I always had a full-time job and did my fashion on the side. My full time jobs included working at flower shops, book-keeping, baby-sitting and a seamstress.

Why did you decide to move to London?

After 4 years in Budapest I decided it would be a good time to move to London. I realised there would be more opportunities in the fashion world in London and I wanted to learn the English language and travel.
I arrived in London in January 2012 after taking a 28 hour bus trip from Budapest with £10 in my pocket. On top of this I didn't know any English.

That's a brave approach! How did you started?
I quickly realised I had two options: work as a cleaner or join my friend Maria Doboli who was a rickshaw driver in central London. I was 42 kilogram and I told her it's not possible to ride the rickshaw with 3 passengers. She told me: "Everything is in your mind - if you think you can do it you will!" I think this sentence has stayed with me forever. I worked as a rickshaw driver for my first 2 years in Central London. When I started in the rickshaw business, I had no idea about London streets. I had a lot funny stories; how I was lost with my passengers in the middle of London, etc. Great memories! Overall it was very physically and mentally challenging but also fulfilling. I met with a lot of interesting people from all over the world!
In 2013 I was invited to the

Eco Fashion Week Vancouver

, Canada and I saved the money for flight tickets from working on the rickshaw. I told my passengers I am pedalling for my dream event, which is my first big catwalk show in Canada and a lot of people gave substantial tips and said "good luck".

How did you find out the brand's new line? What was in the background of the idea?

When I officially started my fashion business in 2014 (website and set up a company) I decided to create and focus on fashion lines that fall closer to the "luxury" category; recycled materials mixed with high-end materials and finishes hence "Eco Luxury". For example I started to combine recycled bicycle inner tubes with high quality fabrics in order to create carefully made eco luxury fashion pieces. All my fabrics are sourced in the UK and all TildArt products are handmade in my East London studio.

What inspires you by designing new collections?
It is always the material that inspires me – it gives me sense of passion to breathe new life into material over and over again.
My latest collection on the Spring 2016

Vancouver Eco Fashion Week

was my "VeloLux" collection which is recycled bicycle inner tubes combined with luxurious fabric such as natural latex, wool and inlaid with Swarovski Crystals. It was during 2012 while working at the London "Bug Bugs" Rickshaw Base that I saw a bin of used - ready to throw out – bicycle inner tubes and I absolutely fell in love with it. Old bicycle inner tubes rolling around the streets of London just a few weeks earlier.
The

Eco Fashion Week

in Vancouver is a very well organised event, which is one of the reasons I went back in April this year. I love the professionalism of the EFW Team. They quickly let me in their circle. I would recommend this event to European designers!

My latest collection, which I will be starting shortly, is also used recycled material that has a great story behind it and will be exciting. Just looking at potential material and having a story behind this is enough to get me inspired.

How can we imagine your work process? How these recycled materials do define the forms? Do you feel boundaries working with them?

My work process typically involves man-hours at the studio and can be a quite a long process and time consuming. For example the used bicycle inner tube process involves:
Collecting:
I go around on my bicycle collecting used inner tubes from east London bicycle repair shops such us About the Bikes Limited, Hub Vélo, London Fields Cycles Limited, The Hackney Peddler. "I tell them don't throw them out – I will take them off your hands."
Cleaning tubes: with eco-friendly cleaning techniques
Cutting: with laser cutter
Hand-weaving: together or combine with wool lines, etc
Some

TildArt

pieces can take a few days to complete and some up to 2 weeks to complete.

No matter what the material, there is labour involved, which may include, cleaning, cutting, sewing, weaving, etc. Whatever the material I find a way to work with the material and usually think of creative ways to turn this into someone interesting and wearable.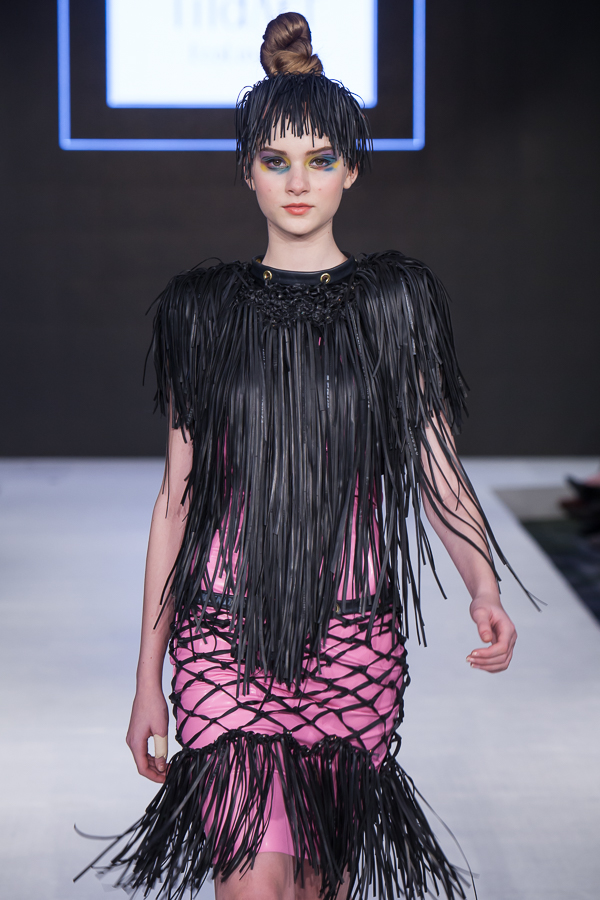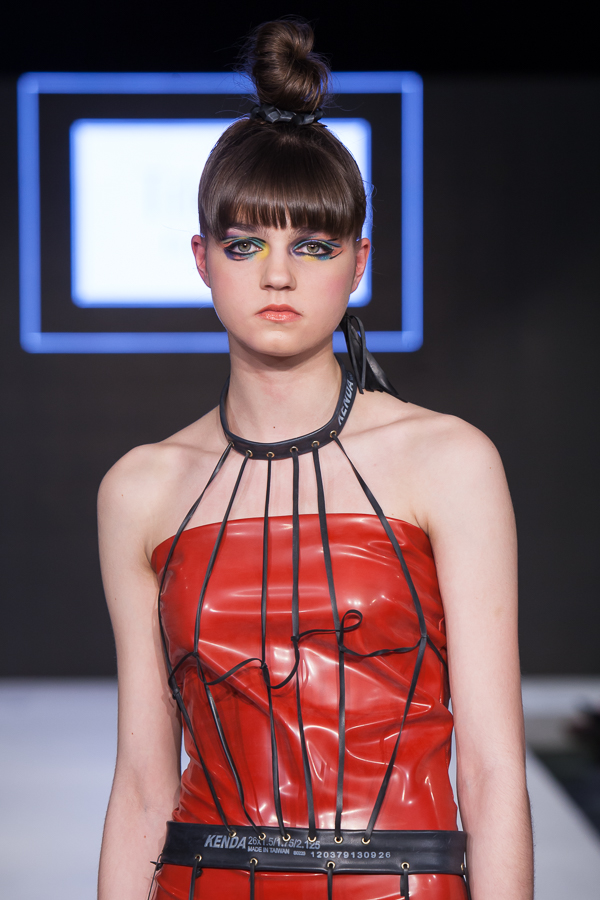 The style of your clothes are very close to me from the very beginning. However, I am really curious, how you see, how you would describe the type of women, for which you are designing your garments.

I am glad to hear you like my designs. My buyers are typically cosmopolitan women who like the luxury, sexy, stand out, well made garments / accessories segment of the market and who care about the environment! Many of my buyers tend to Americans and Canadians because they are open for new labels. I have a lot of Vegan buyers and in particular they love the TildArt VeloLux collection/products because the bicycle inner tube looks like leather. I also have a few Asian buyers as they typically like the "unique" nature of some of my designs.

Have you been in Budapest recently? Do you receive any requests from here? Or from your home country, Romania?

The last time I was in Budapest was in 2014 where TildArt participated in a catwalk show with the Sütő Enikő Model School. I am still open for invitations for Fashion Events in Hungary and Transylvania because it is a pleasure traveling back. I also like to support and show in my home countries.

I had an exhibition in Transylvania in 2012 where I was invited via the best Transylvanian photographer Előd B. Erdély - photo shoots in his studio at Székelyudvarhely.

I was also invited to a few events at the Ócsa Leisure Centre for Eco Week Events and participated in Children Events - teaching them how they can make recycling toys and garments.

I have a few Hungarian sponsors on my events such us: Paul Mitchell Eco Hair Products, L'Oreal Professional, Renata Bakóczi & László Murányi Master Hair Stylists, Hungaria Champagne, Tamás Winery, Sütő Enikő Model School, Szanitter Dávid Actor.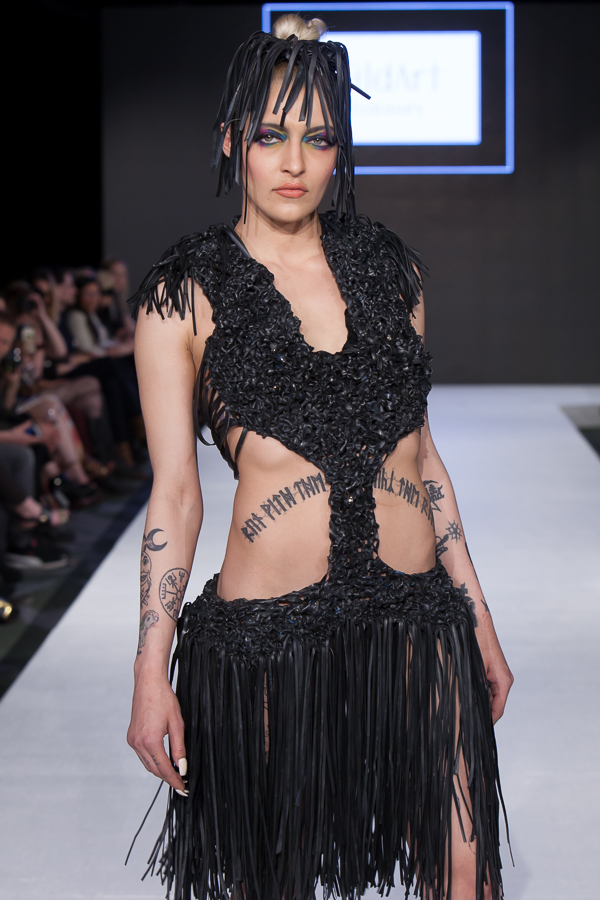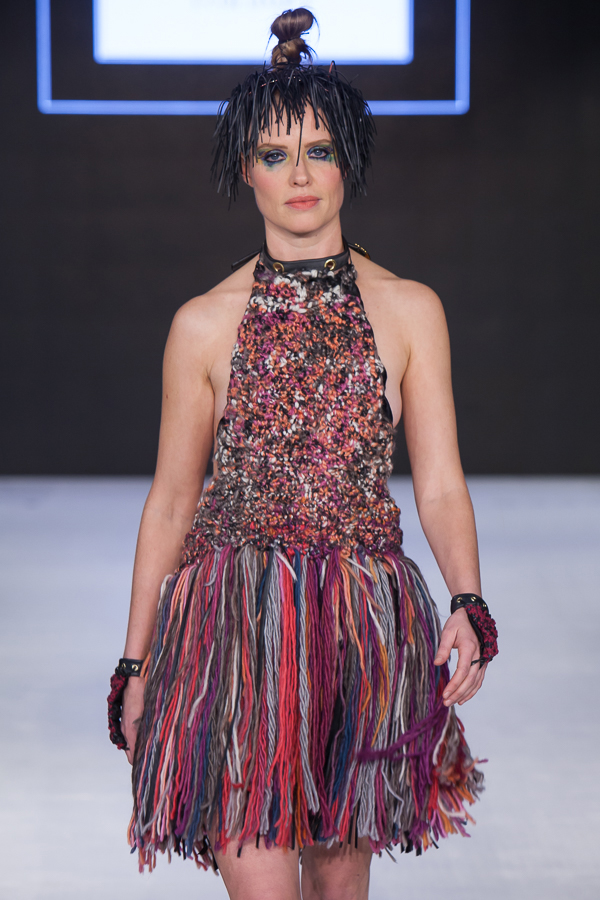 In your collection, which was also presented in Vancouver, the headwear and other unique accessories have had a strong role. Is that a new concept in the brand's line? How would you define that?

Indeed! I love to design crazy headpieces and this is a strong role in my fashion line. I was using this in both of my 2013 & 2016 collections in Vancouver. When I started my fashion business I concentrated on designing stand out but "comfortable to wear" fashion pieces. The headpieces tend to be a bit more for the catwalk shows but I also have these headpieces on sale on my website. One never knows when customers want a stand out with a piece that is different and draws attention.
What are your future plans and dreams?

My future dream is teaching and bringing my eco-friendly mentality to the next generation. I would also like to extend my eco luxury fashion products/line/collections to more luxury high-end boutiques in order to show that "eco" and "luxury" do have a place together.
My life goal is to leave behind an eco vision that will make a better future for the next generation!

Have you always wanted to work in fashion, to be a fashion designer? Do you feel that you are on the road, of which you were dreaming eventually as a little girl?

Yes, I was a 10 year old girl when I thought I would like to be a fashion designer. At that time I made dresses for my dolls and learned a lot of handmade skills; in particular "old-school" techniques from my Grandmother. It is a nice feeling to know I'm on the right path as I can feel it!

You have such an inspiring story! What would you advise to those young people, who may not be brave enough even to dream about being and living as a designer?

Thank you very much!
Do remember that I am only part of the way along my journey. I have a lot more to go. My advice for younger people (or older people): Do not be afraid to dream big because that is the best gift from life! This can give you positive energy and make your everyday life beautiful and exciting.
If you have any opportunities never hesitate to take them!
But I think the most important advise is to believe in yourself, work hard , be strong, be positive and NEVER GIVE UP!
Lots of love, Tilda

I would like to give a big "thank you" for my friend Becsei Timea, who is the TildArt PR expert and campaign director.

You can watch the video about the fashion show
here
.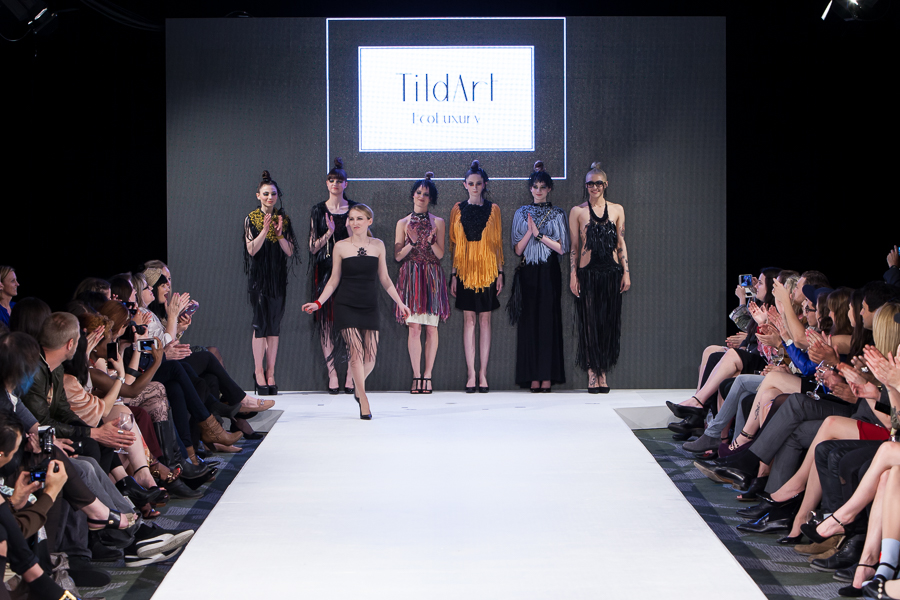 Photos of the show by Peter Jensen.
More pictures: